Welcome to the Leviathans Wiki
Information for the miniatures game Leviathans created by Catalyst Game Labs.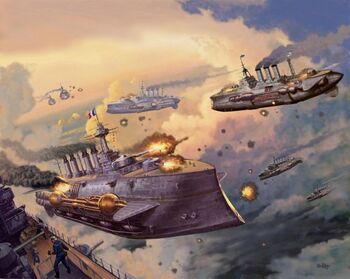 Thousand-ton beasts of steam and steel, held aloft by the scientific wonder of Electroid, battle far above the land. Their aerial ballet represents the culmination of European Militarism, as Empires on whom the sun never sets walk the brink of worldwide war.
News
13 August 2022
HOW TO PLAY!
Randall Bills and Bryn Bills did a "How To Play" video
New Admin
In wiki news, User:Talvin petitioned Fandom.com to be an Admin on this Wiki and was approved! We now have an active Admin, and hope to start recruiting more Editors and, in time, more Admin-level volunteers!
Watch this space for more to come!
7 August 2022
Leviathans: The Great War is live on Kickstarter, now through August 22nd, 2022. This brings the Leviathans game into the First World War, with revised rules, new minis, and new fiction!
Leviathans: The Great War Kickstarter Campaign (wiki article)
The Kickstarter is already funded, and more stretch goals are being unlocked. Come join us in the fight for the skies!
Topics
Disclaimer
This Wiki is maintained by fans of Leviathans and Leviathans: The Great War, and is not an official website of Catalyst Game Labs. All trademarks belong to their respective owners.