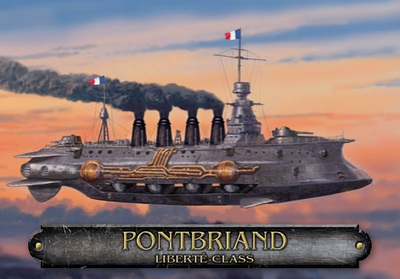 The Pontbriand is said to be a ship of ghosts. This Liberté-class light cruiser was engaged in battle with an Italian ship that strayed too close to the French coast. The first salvo from the Italian vessel blew up the Pontbriand's bow-mounted 138 mm turret, killing the entire gunnery crew. The executive officer led a team into the turret and saw the dead bodies.
Yet a few minutes later, as the Italian ship closed to nearly point-blank range, the guns of the Pontbriand's forward turret suddenly fired even though they had not been re-manned. At least one of the shots hit the Italian cruiser, forcing it to break away. Most insist it was a matter of coincidence; the guns must have been loaded and the ammunition simply cooked off.
The French, by contrast, regard the ship as a good omen, and many claim that the ghosts of the Pontbriand's gunners protect her in battle. Such myths among sailors and airmen are impossible to quash.
Specifications
Edit
Dimensions: 296 ft. x 62 ft. x 77 ft. (excluding funnels & masts)
Complement: 350
Weight: 5,040 tons
Engines: Turbines, producing 28,700 shaft horsepower (maximum speed 59 knots)
Fuel: (coal) normal 580 tons; maximum 720 tons
Armament: 3-138 mm, 8-65 mm